The First Tee is in Wenatchee Valley!
We at Three Lakes Golf Course are excited to continue offering the First Tee of Central Washington Programming at our facility! We want to help spread the word, and let YOU know how you might get involved with this proven youth development program that does so much more than just golf instruction!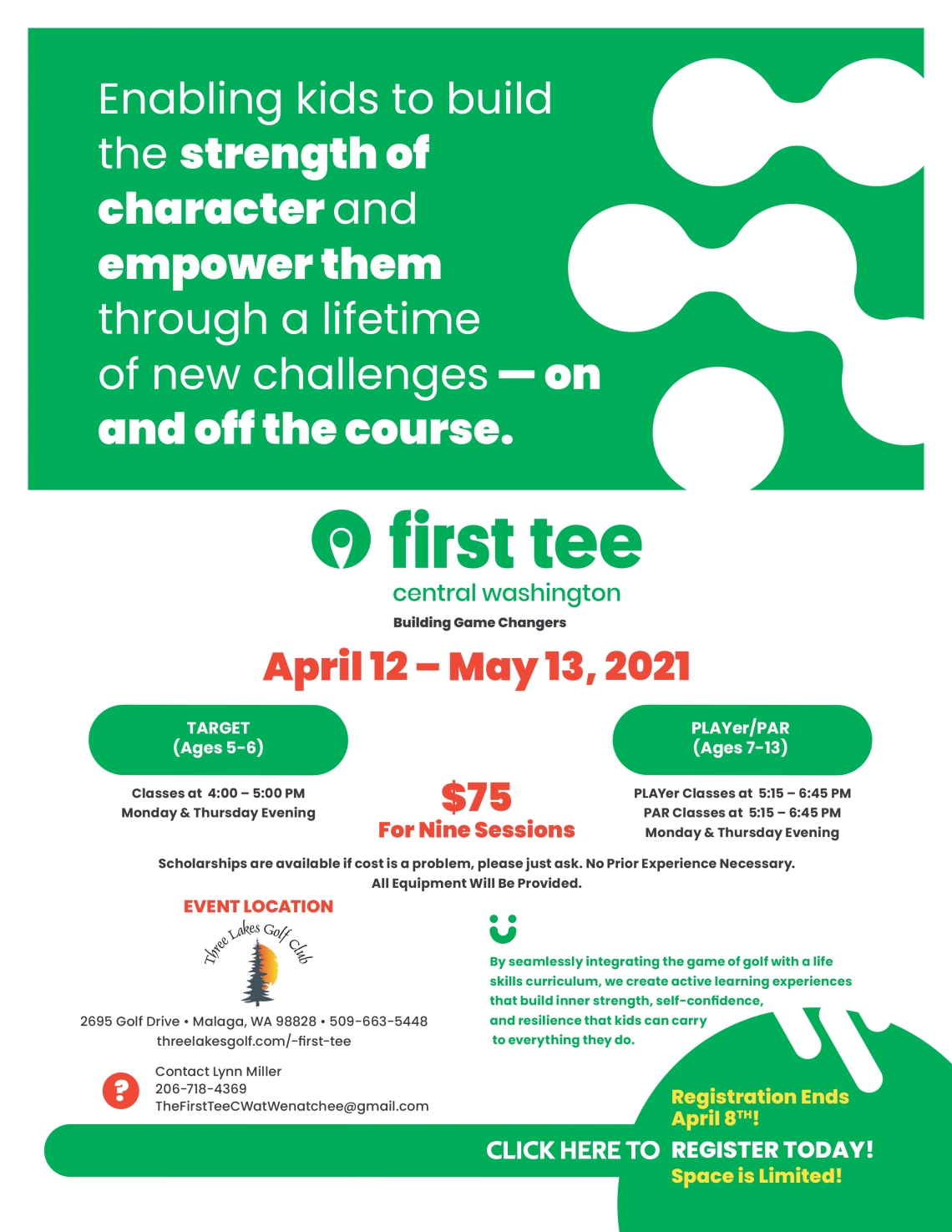 Register here
---
If you don't already have an Account, you will need to create one to sign up. Add Participant information, SELECT the class located in Wenatchee, and complete sale. Any questions/issues, email Lynn Miller: LynnM@firstteecentralwashington.org​.
COACHES AND VOLUNTEERS!
The First Tee is successful because of the thousands of adults who volunteer their time to working with young people. Assistant coaches don't need to be great golfers—or even golfers at all. A trained LEAD COACH does the instruction in class, then assistant coaches work with groups of four or five children, practicing those skills. If you might be interested in assisting with The First Tee at Three Lakes, please email Lynn Miller, Wenatchee Valley Coordinator at LynnM@firstteecentralwashington.org​​.
DONATIONS
The First Tee philosophy is based on the belief that the golf and its inherent values can provide something to everyone, and no child is ever turned away for inability to pay. Your generous donations make it possible for deserving children from all walks of life to have the opportunities and experiences that The First Tee provides. If you would like to support The First Tee at Three Lakes, please donate here.
We are proud to partner with The First Tee and look forward to having more young people learning the game and enjoying our course. To learn more about The First Tee, please visit the national website at www.thefirsttee.org.